Follow us
公众号

微信号

获取更多会议资讯,一对一专属服务,请扫码关注并发送ICCSSE 2021。
ICCSSE Flyer
Know more about ICCSSE, click to download: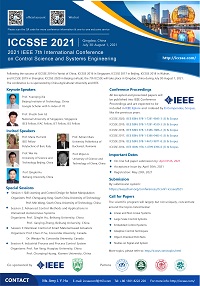 Welcome
ICCSSE 2021

2021 IEEE 7th International Conference on Control Science and Systems Engineering (ICCSSE)

July 30-August 1, 2021

Control Science and Systems Engineering



ICCSSE 2021 proceedings archived in IEEE Xplore.

Interests in control science and system engineering have been increasing and becoming important in this modern technicological age. This international conference allows the results of hard work and forward thinkers to be championed to our peers and the world. The depth of the research workspresented is even greater than those in the previous conferences.

Following the success of ICCSSE 2014 in Yantai of China, ICCSSE 2016 in Singapore, ICCSSE 2017 in Beijing, ICCSSE 2018 in Wuhan, and ICCSSE 2019 in Shanghai, ICCSSE 2020 in Beijing (virtual), the 7th ICCSSE will take place in Qingdao, China during July 30-August 1, 2021. The conference is co-sponsored by China Agricultural University and IEEE.

Plan now to be part of this exceptional conference, as an attendee, event sponsor, or exhibitor. ICCSSE 2021 is where you will meet and network with energy leaders, business innovators, researchers, academics and policy makers from across the globe.
Previous ICCSSE



ICCSSE 2020
IEEE ISBN: 978-1-7281-9845-3
CPCI, Ei, Scopus




ICCSSE 2019
IEEE ISBN: 978-1-7281-4530-3
Ei, Scopus




ICCSSE 2018
IEEE ISBN: 978-1-5386-7886-2
CPCI, Ei, Scopus




ICCSSE 2017
IEEE ISBN: 978-1-5386-0483-0
CPCI, Ei, Scopus




ICCSSE 2016
IEEE ISBN: 978-1-4673-9871-8
CPCI, Ei, Scopus




ICCSSE 2014
IEEE ISBN: 978-1-4799-6396-6
CPCI, Ei, Scopus
Proceedings
| | |
| --- | --- |
| All Accepted and presented papers will be published into IEEE Conference Proceedings and are expected to be included in IEEE Xplore and indexed by Ei Compendex, Scopus, like the previous years. | |